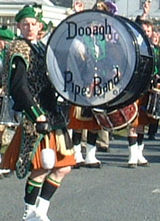 Click image for full gallery
Achill boasts a number of popular events during the year, not least of which are the St. Patrick's Day parades (left). On March 17, Ireland's national day, the island's four pipe bands parade from village to village. Though the full 2001 celebrations were curtailed due to concerns over Foot and Mouth disease, a small march did take place. Click here for images. The Dooagh Pipe Band also has its own web site with an extensive selection of pictures from this year and previous St. Patrick's Day celebrations.

In summer 2000 a new web site was launched by Turasòireacht Acla (Achill Tourism). The site contains extensive details about events on Achill Island as well as information on activities, destinations and accommodation. Visit the Achill Tourism web site at www.achilltourism.com.

Traditional events during the year include the Achill Seafood Festival and Achill's Yawl Sailing festival. The week-long Yawl Sailing festival (Cruinniú Bádóirí Acla) is a relatively recent event and has grown substantially each year. It aims to combine the racing of traditional sail boats in the waters around Achill with the development of Gaelic. For further information, visit the Achill Yawl Sailing Festival (Cruinniú Bádóirí Acla) page on the Achill Tourism website.

The Achill Marathon is an annual half-marathon event held in early July and attracting a field of 2000 runners and walkers. A weekend of entertainment and events usually accompanies this high-profile event. Also for the sports enthusiasts, Achill is home of the Achill ROAR adventure racing event, which is a triathlon-type race involving running, swimming or kayaking, and cycling. A slighly more sedate event is the twice-yearly Achill Walks Festivals which are usually held in March and August and involve guided walks on Achill's mountains, clifftops, coastal walks and other areas of interest.

Scoil Acla is a two-week festival of Irish culture and offers a summer school for traditional Irish arts, language and culture. It includes traditional music, writer's workshop, set dance, poetry reading and art exhibitions. Achill archaeological field school is a summer course investigating the deserted village at Slievemore. This settlement was last inhabited at the turn of the 20th Century (1900), but dates back to about 1600. Some images of the deserted village are available in our Gallery.